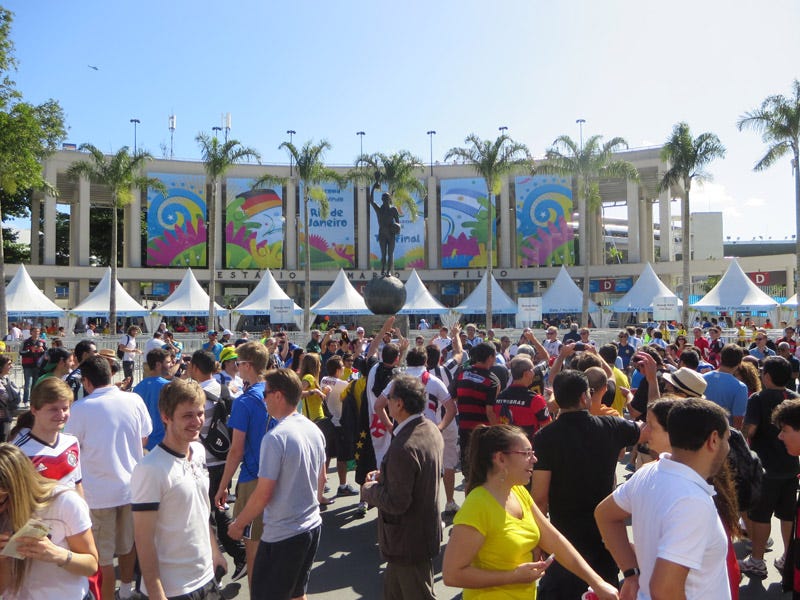 Standing at the inner gates of the Maracanã, behind three perimeters of heavily-armed military police, ready for the biggest sporting event in the world, I had my ticket stolen.
It was a surprisingly easy mistake to make. For a split second during a photo-op with a scrum of other fans, I took my hand off my ticket in my right hand pocket and waved. When I reached back, three seconds later, it was gone.
A pickpocket, right? Had to be. I was wearing the ridiculous mask above (I'm the eagle on the left), so I was as good as blind; there was no way to see who'd made off with the stolen goods. I didn't freak out. That's not really how I roll. I went straight to my wife Prairie, told her my ticket had been stolen, and we made for the ticketing centre to have it cancelled and reprinted. (We'd received similar help on matchday in Natal, when our tickets contained numbers for seats that didn't exist in the stadium.) At this point, it was still more than three hours before kickoff, so we figured we had some time. But I was held up for lack of having a ticket at yet another security perimeter, and found myself boxed in by police who wouldn't let me proceed to get help, or retreat beyond the overall stadium perimeter. Prairie went on without me, but later returned in tears, because she'd been rebuffed by MATCH, the ticketing service that FIFA employed for the tournament. The ticketing centre was able to verify that my ticket had not yet been swiped at the gates and canceled it, but would not reprint it. With few options, we shuffled back towards the centre, to see if I (a very big guy with a loud, rumbly voice) might get more traction.
Along the way, my mind raced. I kept trying to get online and contact someone, anyone— we know a few people in the US media corps and are friendly with Sunil Gulati, our federation's president. Getting one of them to advocate for us was a long shot, but I tried it, posting a few panicked tweets to see if it would bring us any aid. Wifi was a mess, though, so it was hard to connect and communicate. I was stoic on the outside but felt gut-shot; Prairie was beside herself. A pair of local volunteers (not FIFA folks, but city workers, very nice kids who spoke excellent English and lived in Rio) asked us what was wrong, and were able to squeeze me past one of the checkpoints to the ticketing centre. There, faced with a huge black mark on the climax of our amazing once-in-a-lifetime trip, Prairie had a panic attack.
A panic attack is a physical manifestation of intense anxiety. Her limbs went numb and rubbery, and she had trouble breathing. It's terrifying, but she'd had one before and knew what was going on and what was needed to stop it. So while I kept asking the stone-faced MATCH employees to help us to no avail (we'd later learn that the president of MATCH was literally on the run from the Brazilian police for criminal activity) Prairie summoned medical help. That got us past the barricade and into the ticketing centre, but we still weren't going to get the service we desperately needed. Despite the fact that each of our tickets contained our real names, ticket request numbers, and a unique RFID chip as an anti-theft measure, it was policy to not re-print the ticket on matchday— a policy that had evidently changed between the beginning of the trip, when a FIFA rep took care of our bad tickets, and the end of it.